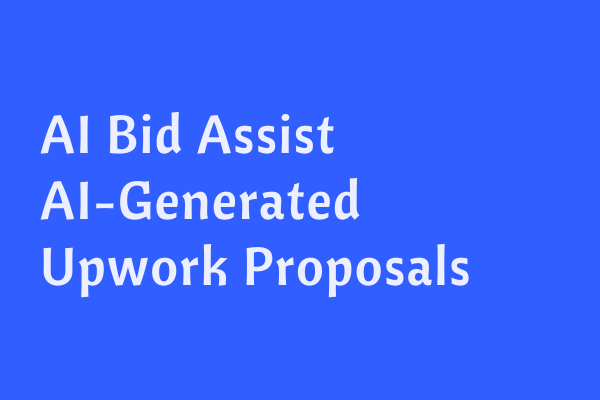 AIBidAssist: AI-Generated Upwork Proposals—Helping Freelancers and Agencies Win More Business in Less Time!
Blog
April 05, 2023  •  4 min read
Standing out on Upwork isn't easy. After all, it's a global marketplace for freelancers and agencies. There are so many freelancers vying for the same contracts that it's easy to get lost in the shuffle. Sheer hard work alone doesn't do the trick for navigating its competitive waters.
Drafting personalized content for every Upwork proposal in a bid to make a lasting impression on potential clients. Investing time, effort, and money. Getting all of these elements just right can be a challenge. However, the rise of AI, specifically ChatGPT has changed the landscape of content creation and is a savior for Upwork and lead generation! It's also powered new AI tools such as AIBidAssist.
The Shifting Landscape: AI-Generated Content and ChatGPT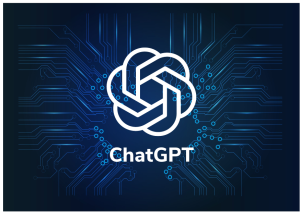 AI-generated content powers advanced language models like ChatGPT and has revamped the way Upwork users approach proposal generation. Using AI, users can produce more specific and context-aware proposals in a fraction of the time it would take to manually craft them. It's opened the door for new AI-powered tools like AIBidAssist.
The Upside and Downside of AI-Generated Content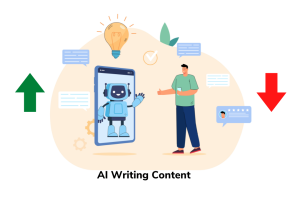 Like any new technology, AI-generated content has pros and cons. On the one hand, AI-generated content can boost productivity, save time and resources, and eliminate errors. On the other side, some say that content produced by AI is devoid of imagination, individuality, and the human touch. Concerns have also been raised over the reliability and correctness of content produced by AI. But, AI-generated material is becoming more sophisticated and accurate thanks to breakthroughs in AI technology and human oversight.
Explore AIBidAssist
AIBidAssist is that miracle worker in the quest for faster, better Upwork proposals. Unlike other AI-generated tools, AIBidAssist is:
Context-specific and delivers content within seconds: Freelancers and agencies can produce proposals, emails, and other types of business communication within seconds.
Detail-oriented: Feeding AIBidAssist with crucial portfolio details, crucial requirements, and other relevant data ensures your proposals never miss out on sending the right message across. It also keeps the proposals short and fresh.
Constantly evolving: AIBidAssist uses the power of ChatGPT to create tailor-made proposals and even churn out follow-up messages.
Features of AIBidAssist
Ask anything: Get detailed answers to your queries and receive suggestions for the next steps to be taken.
Saved Queries: Keep track of all the prompts and queries you searched for in the past in the 'saved queries' section.
Proposals: Create and customize proposals, plan a list, and bid smartly to win over clients.
Portfolio: Showcase your portfolio by adding your tech stack, portfolio URL, projects, and other relevant details to create proposals that stand out.
Choose a Plan: Select a plan that fits your needs and start creating winning proposals!
How can AIBidAssist help Agencies and Freelancers with Upwork Proposals?
AIBidAssist is an AI-powered tool that can help agencies in several ways. Here are some reasons why agencies should consider using AIBidAssist:
Saves time and resources: AIBidAssist can quickly produce professional proposals, emails, and other business communications, giving agencies more time and resources to devote to other projects.
Productivity rises: By using AIBidAssist, agencies may swiftly produce a large number of proposals and emails, boosting their effectiveness.
Enhances quality: AIBidAssist creates proposals and emails that are superior to the competition by using cutting-edge AI algorithms to create human-like prose that is tailored to the particular needs and specifications of the customer.
Increases competitiveness: By using AIBidAssist, agencies may produce persuasive, expertly written proposals and emails that improve their chances of procuring more business and bringing in more money.
Simple to use: Users find AIBidAssist to be very simple to use.
Constantly improving: AIBidAssist uses machine learning to learn from user feedback and generate even more accurate and contextually relevant text, making it an ideal tool for agencies that are looking to stay ahead of the competition.
Solutions like AiBidAssist save time, increase productivity, improve the quality of their proposals and emails, and enhance their competitiveness. However, it's no reason to abandon the personal touch just yet! AI can't create that bond and emotional connection with clients. Only you can do that! So make the best use of AI and that human touch, and you've got yourself a winning Upwork proposal for sure!
At SJ Innovation, we're all about pushing the boundaries of what's possible with technology. For this reason, we created AIBidAssist, an AI-powered solution that is redefining Upwork for freelancers and agencies. We are aware that it can be difficult to stand out on Upwork, and this is where AIBidAssist can help. You can close more deals faster thanks to its context-specific proposals and lightning-fast generation. As we continue to refine and improve AIBidAssist, we remain committed to offering our clients cutting-edge solutions that will help them thrive in today's cutthroat market. So why wait? Try AIBidAssist today and see the difference for yourself. Know more about our OpenAI services by getting in touch with our experts!